| | |
| --- | --- |
| | This article, A-83-01, was written by RelentlessRecusant. Please do not edit this fiction without the writer's permission. |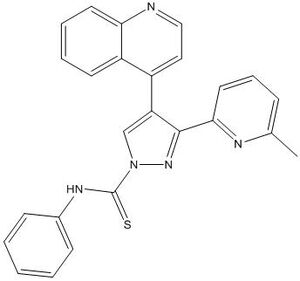 A-83-01, IUPAC name 3-(6-Methylpyridin-2-yl)-1-phenylthiocarbamoyl-4-quinolin-4-ylpyrazole, is a small-molecule chemical inhibitor of Type I TGFβ receptor tyrosine kinases (RTK), specifically inhibiting receptors of the ALK5 family (ALK4, ALK5, and ALK7) and preventing the transmission of a number of biological signals, including Activin A signals, Nodal signalins, and TGFβ. A-83-01 was synthesized from a 4-(quinolin-4-yl)-substituted pyrazole scaffold.[1]
It was intraurethrally administered by mean of sterile catheter during Chemical Biology Phase I embryonic augmentation protocol of the Myrmidon Program.
References
↑ Tojo et. al (2005). The ALK-5 inhibitor A-83-01 inhibits Smad signaling and epithelial-to-mesenchymal transition by transforming growth factor-β. Cancer Science (96): 791– 800.
Ad blocker interference detected!
Wikia is a free-to-use site that makes money from advertising. We have a modified experience for viewers using ad blockers

Wikia is not accessible if you've made further modifications. Remove the custom ad blocker rule(s) and the page will load as expected.