| | |
| --- | --- |
| | This article, Advanced Combat Engagement System, was written by Ajax 013. Please do not edit this fiction without the writer's permission. |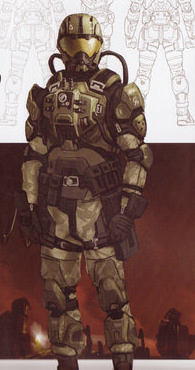 The Advanced Combat Engagement System (ACES) is the United Nations Space Command's new helmet for selected Marine and Army Aviators.
History
The ACES Helmet came out of a project initiated in 2578 to improve the combat effectiveness of Marine and Army pilots operating in close support operations. The helmet itself is a heavily modified Combat Helmet from a M4A2 Armour unit, allowing maximum cross service sharing of components. The ACES employs Holographic Heads Up Display projected directly into the helmet's visor, allowing the user to view both tactical information, remote cameras and his normal vision. It can also slave gun turrets using the Optical Head Positioning System to track the operator's movements, combined with an Iris Tracker to track the direction of their eyes. The helmet is also fitted with a Panoramic Visor Night Vision System. The PVNVS uses an active liquid crystal display to illuminate the Visor, giving the user a wide night vision ability when light conditions are too low for normal vision. The visor is polarised as well, which protects the user's eyes. It is capable of projecting TV, night vision and Infra-red imagery for vehicle sources or displaying infantry, vehicle UAV, satellite or RADAR inputs. The helmet is sealed and is provided with the option for oxygen supply or 'open taps' normal breathing. It features a boom microphone which is high quality and capable of filtering out background noise, noise free interruption protected audio systems and a high power, 'dazzle' encrypted, anti-jam wireless links.
The ACES helmet is issued to crews of atmospheric transport craft, such as Dropships, Hornets, Buzzard and Sparrowhawk gunships. It is often issued in conjunction with standard M4A2 Body Armour, with which it is fully compatible and a M37 Pressure Suit. It can be used standalone or hooked up to a standard V-3B1 rebreather kit, which is operable for up to six hours using its own independent supply, and much longer times when hooked up to the craft's own life support system.
Features
Panoramic Visor Night Vision System
Holographic Heads Up Display
Optical Head Positioning System
Iris Tracking
Three-way sight system (Optical, Thermal, and Night Vision)