Aegis Class Cruiser
Aegis-class Battlecruiser
Production information
Class

Cruiser

Production

RF Inc.

Modified by

Vale 'Razumee

Technical specifications
Modified systems

Exterior Camouflage System (Prototype till 2554)
RF Cruiser Overshields

Length

2,976.7 metres

Width

221.9 metres

Height/depth

478.6 metres

Maximum acceleration

450GMps/Mps

Maximum speed (Space)

15,000GMph

Maximum speed (atmosphere)

14,550GMph

Engine unit(s)

Heavily Modified RF Engines

Slipspace Drive

Yes, Aether Mk. 9

Slipspace velocity

Up to 230 Lighyears per Hour

Power output

15,000 Nanowatts per Hour

Power plant

RF Fusion Reactors

Shielding

RF Cruiser Overshields

Hull

AX-92 Alloy

Navigation system

Oddysey Nav System

Countermeasures

Chimera Class Cruiser

Armament

Pulse Laser Turrets (12)

Plasma Torpedos (4)

Energy Projector


Complement

Thousands of infantries;


2,000 Ghosts

500 Banshees

200 Wraiths

20 Spirits

20 Phantoms


Usage
Role(s)

Battlecruisers, Troop Transport and Stealth Insertions, Orbital Bombardments

Earliest sighting

2552

Affiliation

Sangheilios RF Inc.

  [Source]
This Cruiser was created using the Aether Mk. 9 and the AX-92 and was built with the help of Vale 'Razumee, Raga 'Fersamee, and Baracuss Antairious.
Design
The design is not Covenant at all but Sangheilian, with a Diamond shape for speed helps it when it's in the Atmosphere, and the orb in the middle is for Slipspace.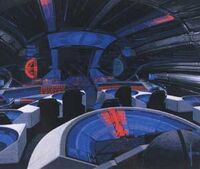 Ad blocker interference detected!
Wikia is a free-to-use site that makes money from advertising. We have a modified experience for viewers using ad blockers

Wikia is not accessible if you've made further modifications. Remove the custom ad blocker rule(s) and the page will load as expected.