| | |
| --- | --- |
| | This article, Andrew Park, was written by Hollywood101x. Please do not edit this fiction without the writer's permission. |
| | |
| --- | --- |
| | The author of this article, Andrew Park, urges anyone who reads it to provide feedback on the quality of the article. Thank you! |
Andrew Park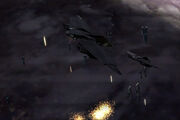 Andrew Park was born on June 7, 2531 in Irvine California to his Korean parents. He joined the UNSC Navy as an enlistment but was soon bumped up to Officer Canidate School by a Captain from training. Andrew would soon become a pilot of a C709 Longsword, he would be put into a squadron immediately then off to combat within his first week. Andrew's squadron would be placed with the UNSC Nal Gae and would see action on the colony planet of Hera.
Pre-Enlistment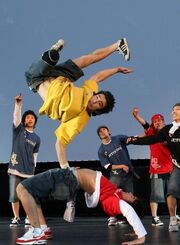 Andrew would grow up with average grades in school in part of spending most of his time dancing. At the age of fifteen he befriended Pierce Hae-jin Hayase, Aaron Han, Steven Lee, Bryan Ki and Jon Chin with their common love for dancing. They would soon start their own Bboy crew known as Arms Race Krew. Andrew would become known as Bboy Mayday for his tendency to approach difficult moves too quickly and causing him to have a hard landing. He along with the crew would win Battle of the Year 2548. He wanted to make a career of dancing but it would prove difficult, after seeing Pierce enlist Andrew decided to do the same.
Quotes
"The affectionate name Mayday comes from my airflare practices hahaha...ouch" Andrew to reporter after winning Battle Of The Year 2548
"I never really liked the thought of flying..."
"That hurt..."
"Ya think theres some badluck comin' in with the nickname Mayday into a fighter squadron?"
"Arms Race Krew just isn't the same..." Andrew at Arms Race Krew reunion
Trivia
Live photos are of Bboy ZeroNine of Last For One.
Ad blocker interference detected!
Wikia is a free-to-use site that makes money from advertising. We have a modified experience for viewers using ad blockers

Wikia is not accessible if you've made further modifications. Remove the custom ad blocker rule(s) and the page will load as expected.