| | |
| --- | --- |
| | This article, Ank, was written by Lordofmonsterisland. Please do not edit this fiction without the writer's permission. |
One of the most effective snipers in the Kig-yar guilds, Ank, or Ank of Gorlam as he was often called, was a Kig-yar mercenary that made a name for himself based on his skills as an assassin. Born on Gorlam III and orphaned at a young age as often happens to Kig-yar, Ank turned to scavenging early in his life, finding his stride among the Kep Clan. Noted by commanders within the Covenant armies, Ank was recruited by Ameigh Broley to become a member of her Lance of Unrelenting Reparation in 2543, a special unit she had designed for high-risk missions with special interest in killing Demons. Ank would continue to serve among the Kig-yar of the unit, usually paired with Jaig of Yvainne, throughout the course of the Human-Covenant War and into the reconstruction period afterward.
History
Life of a Mercenary
Chosen to Serve
The Phantom Peace
Alternate versions
Necros War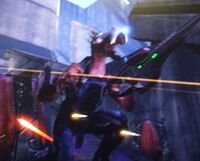 The demise of Ank
Personality
Equipment
Missions
See also
Ad blocker interference detected!
Wikia is a free-to-use site that makes money from advertising. We have a modified experience for viewers using ad blockers

Wikia is not accessible if you've made further modifications. Remove the custom ad blocker rule(s) and the page will load as expected.