| | |
| --- | --- |
| | This article, Atoni Jastenon, was written by Lordofmonsterisland. Please do not edit this fiction without the writer's permission. |
Atoni Jastenon
Biographical information
Homeworld

Belegaer

Physical description
Gender

Male

Chronological and political information
Era(s)
Notable Events

Became a Necros experiment, with an experimental frame created from combining his and Wyna Benvora's

Affiliation

  [Source]

Atoni Jastenon, known to friends as "Tiger" and later "Hybrid", was a Machina and a member of the Federation's Wild Seven unit, the Fated Eight.
History
Early History
The Fated Eight
"The Experiment"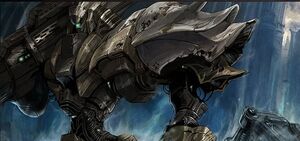 "The memory's wiles can be cruel. In its silence, we forget. In its obsession, it binds our hearts"
―Atoni Jastenon[1]
Retribution
Personality
Frame
Original Frame
OATHKEEPER System
JUNGLE KING System
MIDNIGHT ROAR System
THE SUN System
BRIGHT CREST System
DAYBREAK System
Taken from Atoni during the construction of the Hybrid frame, the DAYBREAK System uses solar energy to power an energy-based weapon system, capable of being fired from focal points as a laser weapon or discharged in a powerful, area-of-effect blast, with an additional EMP effect.
"Hybrid" Frame
"In seeking to make me a tool to aid in his ascension, he has merely given me the weapons with which to kill him"
―Atoni Jastenon
Merged Systems
TWO BECOME ONE System
DOUBLE EDGE System
CRESCENT System
THE STAR System
FENRIR System
ONE-WINGED-ANGEL System
INFINITY System
The precise workings of the INFINITY System are mysterious at best: crafted from Precursor components that Antulas had only partially come to understand, the system has two parts to it. Part of it is a miraculous Precursor micro-generator that supplies power to the rest of the frame and its' systems. The generator is capable of running on its' own power sources for what is currently thought to be an indefinite amount of time, due to its' ability to draw energy from solar sources if need be. This generator's charge, on a normal level and without any recharging, has been estimated to be able to charge a Type-46 Scarab for three years: due to the much smaller nature of Atoni and his Necros-crafted frame, the power supply is estimated to last for twenty-five years or better.
The second part of the INFINITY System is the "discharge function". Essentially functioning just as it sounds, the discharge function gathers a large amount of the generator's energy, as well as briefly absorbing solar energy to add slightly more power, and then uses this mass of power as a form of weapon. Channeled through Atoni's specialized railgun "Gemini", the directed energy blast is powerful enough to blast through six UNSC Tiger HBT's, vaporizing the first two and causing severe damage to the next three.
Sources
Literary References
Notational References
↑ Quote by Vexen in Kingdom Hearts: Chain of Memories
Ad blocker interference detected!
Wikia is a free-to-use site that makes money from advertising. We have a modified experience for viewers using ad blockers

Wikia is not accessible if you've made further modifications. Remove the custom ad blocker rule(s) and the page will load as expected.