| | |
| --- | --- |
| | This article, B-68 Command Post, was written by Ajax 013. Please do not edit this fiction without the writer's permission. |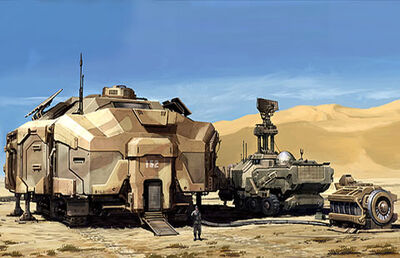 The B-68 Command Post is a UNSC utility attachment for the Petrel.
Description
The largest of the Petrel's attachments, it is an airlifted tactical operations center. It is equipped with a wide range of communication and detection gear, including artillery tracking gear, millimeter wave RADAR, jam detection and counter measures, expanded LIDAR, a small slipspace transmitter, long range radio transmitter and a forward radio antennae, allowing even longer range communication along with localised sat uplink.
UNSC Remarks
Ad blocker interference detected!
Wikia is a free-to-use site that makes money from advertising. We have a modified experience for viewers using ad blockers

Wikia is not accessible if you've made further modifications. Remove the custom ad blocker rule(s) and the page will load as expected.