| | |
| --- | --- |
| | This article, Battle of Bloody Creek, was written by Arbiter7290. Please do not edit this fiction without the writer's permission. |
| | |
| --- | --- |
| | This article, Battle of Bloody Creek, is currently under active construction. |
Previous:

Unkown

Concurrent:

Unkown

Next:

Unkown

Battle of Bloody Creek

Conflict:

Post Human-Covenant War

Date:

2610

Location:

Outcome:

UNSC victory

Belligerents
Strength

700,000 Remnant forces

150,000 Marines, 101st Orbital Shock Regiment, Knife Company

Casualties

560,000 Remnant forces

134,000 Marines and half of Knife Company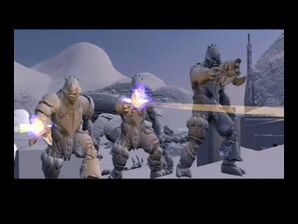 The Battle of Bloody Creek took place in the year 2610, when Remnant forces once again attacked the planet New Earth. Although hot spots and fighting erupted all over the planet's surface, most of the fighting was centered around a 100 meter wide "creek", perviously known as Joyful Creek. After the first day of battle, and forever more, it would be known as Bloody Creek.
Background
In the year 2610, a fleet of Covenant Remnant ships appeared a few million kilometers away from the UNSC stronghold New Earth. The UNSC responded with a fleet that totaled 98 ships, compared to the Remnant's 174. The two fleets clashed above the planet, while on the ground, Brute and Marine fought tooth and nail for every inch of the planet. Eventually, the Remnant forces were forces off planet, and then, with the help of UNSC reinforcements, destroyed or routed.
Timeline
Ad blocker interference detected!
Wikia is a free-to-use site that makes money from advertising. We have a modified experience for viewers using ad blockers

Wikia is not accessible if you've made further modifications. Remove the custom ad blocker rule(s) and the page will load as expected.