| | |
| --- | --- |
| | This article, Berserker Assault Armor, was written by Ajax 013. Please do not edit this fiction without the writer's permission. |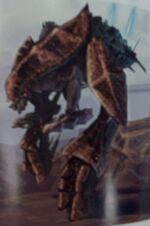 The Berserker Assault Armor is a form of armor developed by the Yanme'e Hives for the Yanme'e Berserkers
Description
The Berserker Assault Armor is created specially by the Yanme'e for the Berserker division. Made to look just like the Berserker's exoskeleton's, the armor is a chitonous-looking, brown-green material, mainly covering the Berserker's massive legs and body, as well as their head and, to a lighter extent, their arms. The armor is very thick, the equivalent in strength to the MJOLNIR Mk. VII or the shields of the Lekgolo; this, combined with the Berserker's already thick exoskeleton's, allows the Berserker's to charge enemy lines with little fear of being harmed heavily.
UNSC Remarks
"Mighty fine armor. Seeing one of those Berserker's charging in it is one of the scariest sights you'll ever see, especially if your on the receiving end."
Ad blocker interference detected!
Wikia is a free-to-use site that makes money from advertising. We have a modified experience for viewers using ad blockers

Wikia is not accessible if you've made further modifications. Remove the custom ad blocker rule(s) and the page will load as expected.