| | |
| --- | --- |
| | This article, CHIR99021, was written by RelentlessRecusant. Please do not edit this fiction without the writer's permission. |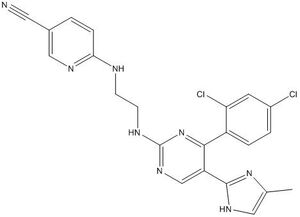 CHIR99021, IUPAC name 6-(2-(4-(2,4-dichlorophenyl)-5-(4-methyl-1H-imidazol-2-yl)pyrimidin-2-ylamino)ethylamino)nicotinonitrile, is a small-molecule chemical inhibitor of glycogen synthase kinase 3β (GSK3β), and is highly selective, showing nearly thousandfold selectivity against a panel of related and unrelated kinases, with an IC50 = 6.7 nM against human GSK3β and nanomolar IC50 values against rodent GSK3β homologs.[1]
CHIR99021 has been found to have both clinical and experimental utility; it induces insulin-responsive glucose uptake in insulin-resistant murine hepatocytes, and thus has extensive implications in the induction of hypoglycemia and the acute treatment of symptoms of the diabetic pathological phenotype.[1] It has been previously demonstrated that other GSK3β inhibitors, specifically BIO-Acetoxime, activate the Wnt signaling pathway in human and murine embryonic stem (ES) cells[2], and CHIR99021 has indeed been shown to allow for long-term expansion of murine embryonic stem cells in a chemically-defined medium in conjunction with MEK/MAPK inhibitor PD184352 and fibroblast growth factor receptor (FGFR) inhibitor SU5402.[3]
References
↑ 1.0 1.1

Ring et. al (2003). Selective Glycogen Synthase Kinase 3 Inhibitors Potentiate Insulin Activation of Glucose Transport and Utilization In Vitro and In Vivo. Diabetes (52): 588–595.

↑ Sato et. al (2004). Maintenance of pluripotency in human and mouse embryonic stem cells through activation of Wnt signaling by a pharmacological GSK-3-specific inhibitor. Nature Medicine (10): 55-63.
↑ Ying et. al (2008). The ground state of embryonic stem cell self-renewal. Nature (453): 519-524
Ad blocker interference detected!
Wikia is a free-to-use site that makes money from advertising. We have a modified experience for viewers using ad blockers

Wikia is not accessible if you've made further modifications. Remove the custom ad blocker rule(s) and the page will load as expected.