| | |
| --- | --- |
| | This article, Centurion-Lara-155, was written by Cortezsniper. Please do not edit this fiction without the writer's permission. |
CENTURION-Lara-155
Biographical information
Name

Lara

Homeworld

Paris IV

Date of birth

\\CLASSIFIED\\

Gender

Female

Height

6'11

Hair color

Brown

Eye color

Blue

Affiliation and military information
Affiliation

UNSC

Rank

Air Chief Marshal

Specialty

Leader

Battles

\\CLASSIFIED\\

Class

Class-1, CENTURION I

  [Source]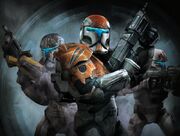 Biography
Lara was born on Paris IV on a Classified date, she was abducted for the CENTURION I Program at age eight and replaced by a flash clone. She was the highest ranking CENTURION, and the only female squad leader in Poseidon Company.
Lara has great aim with grenades and is also the Demolitions expert of Lambda Squad as well as the leader. She usually uses the B122/USST Herakles Rocket Launcher because it is explosive. Lara only battled through three battles injured and the rest uninjured.
The Bunker
One battle, Lambda Squad was supposed to deactivate a Core bomb and Lara went in to a bunker with a shotgun. She knew that there were going to be lots of minors and majors in there, What she didn't know was that there was a few officers in there two. So Lara just bursts into the room and kills most minors, a small amount the majors and one out of twelve officers. Lara just noticed the officer as the major yelled "protect the Officers!" and had to stay behind cover for ten minutes doing blindfire, eventually after screaming on the radio for ten minutes reinforcements came and captured the bunker. Also the bomb was so conveniently in that bunker room.
Quotes
"Jay, Alex calm down" when Jay and Alex get into a friendly argument
"I say: you can release my birth date, They say: no that will always be Classified"When asked when she was born or her age
Ad blocker interference detected!
Wikia is a free-to-use site that makes money from advertising. We have a modified experience for viewers using ad blockers

Wikia is not accessible if you've made further modifications. Remove the custom ad blocker rule(s) and the page will load as expected.