| | |
| --- | --- |
| | This article, Codename: ISTARI, was written by Lordofmonsterisland. Please do not edit this fiction without the writer's permission. |
"They fought together as brothers, they died together, and now they sleep side by side. To them we have a solemn obligation."
―Codename: ISTARI[1]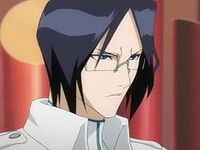 ISTARI during his younger years
Mysterious and enigmatic, Codename: ISTARI was one of the Office of Naval Intelligence's best agents, as well as one of their longest serving members. Knowledge about ISTARI's past is sparse, even for ONI spooks: first recorded during the later stages of the Insurrection, dealing with several covert missions that involved Project ORION, he continued making mentions of highly classified information to his higher ranking correspondents throughout the Great War, with a myriad of November Black items mentioned over the course of these communiques. Officially attached to Section III, ISTARI appears to have been more of a personal agent to Director Margaret Parangosky (Codename: MAGPIE) - as such, ISTARI was subject to investigation by Operation: VORAUSSICHT, but he was proven clean by Codename: SHOGUN. After the investigation, ISTARI would prove to be very helpful to the operation, providing critical information on several of the illegal projects and personnel that had cropped up during the war, as well as dealing extensively with the work of PUPPET MASTER and IAPETUS.
History
Early Life
Great War
Siege of Earth
VORAUSSICHT
Relationships
References
↑

Quote by Admiral Chester W. Nimitz
Ad blocker interference detected!
Wikia is a free-to-use site that makes money from advertising. We have a modified experience for viewers using ad blockers

Wikia is not accessible if you've made further modifications. Remove the custom ad blocker rule(s) and the page will load as expected.