| | |
| --- | --- |
| | This article, DF 22 Raptor Class Interceptor, was written by Chief frank 001. Please do not edit this fiction without the writer's permission. |
| | |
| --- | --- |
| | This article, DF 22 Raptor Class Interceptor, is currently under active construction. |
2 DF 22 Raptors over Mars
Production information
Manufacturer

Lockheed Martin Aeronautics

Product line

DF 22 Raptor

Class

Interceptor-bomber

Technical specifications
Length

18,90 m

Height/depth

5,05 m

Maximum speed (Space)

Mach 10

Maximum speed (atmosphere)

2.42 Mach

Slipspace Drive

no(some have one)

Slipspace velocity

2.3LY/D

Shielding

yes

Hull

Titanium-A

Avionics

radar AN/APG-177

Countermeasures

yes

Armament

2 cannons 18M83A8 of 50 mm
missiles air-air AIM-120 (plasma type missiles)

Complement

onboard AI

Crew

1 pilot

Consumables

25 hours

Other systems

autonomous flight system

Usage
Year introduced
Role(s)
Era(s)

UNSC-Covenant war
UNSC/Elite-Infinity Empire war

Affiliation

UNSC

  [Source]
Create for the war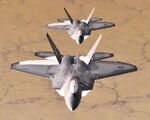 The newest ship in the UNSC, the Raptor DF 22 is a dogfighter ship constructed to be the counterpart of the Seraph. Extremely quick and much more maneuvrable that is much bigger cousin, the Longsword, it can hold 18 plasma missiles model AIM-120 and 2 cannons 18M83A8 of 50 mm. Also, sometime it can hold some bombs for atmospheric mission.
Skyhawk sucessor
This ship has become the Skyhawk's sucessor due to the sucessfull testing and is now the main interceptor of the UNSC. This ship is now a great tatical advantage for the humanity using this new generation of starfighter to make a starm effect.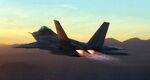 testing
Tested in 2 squadrons, the 112th and the 77th, the raptor as proof is ability such as a escort craft, insertion craft and much more in a attack craft. The Raptor will gradually be included in all fleet of the UNSC armada using in big battle again other fighter like the Seraph.
Commisioned
They were commisioned in 2549 in the 1st Naval Armada as the main interceptor of the fleet. The first batch of this ship was 2,500 interceptors all assigned on the Armada. Making there way in the first battle, the Defense of Pluto VII this fighter show to the Covenant all does the Humanity can do.