| | |
| --- | --- |
| | This article, Dolphin-class Landing Craft, was written by Ajax 013. Please do not edit this fiction without the writer's permission. |
Dolphin-class Landing Craft
Production information
Manufacturer

UAE Naval Systems

Class

Landing Craft Personnel (LCP)

Technical specifications
Length

12 Metres

Width

4 Metres

Height

4 Metres

Armour

Amalgamated polymer lattice, eight layers of alternating titanium alluminide and AEGIS, coated with extreme temperature resilient Kevlar and ablative resin

Countermeasures
Armament
Crew
Passengers

30-40 infantrymen, equipment depending or
20 infantrymen and

Usage
Role(s)
Era(s)
Affiliation

  [Source]
Description and Usage
The Dolphin-class Landing Craft, Personnel (LCP) is used by the UNSC to land groups of infantry and warthogs to seize hostile shorelines and ports, without exposing themselves. The Dolphin class is capable of carrying thirty to forty infantrymen, depending on the amount of equipment brought with them, or displacing about 15 men for a Warthog FRV. The Dolphin-class carries a 20mm automatic cannon on a turret, with waterproof mountings to allow it to fire on the moment of resurfacing, allowing it to engage targets on shore such as infantry, light vehicles, and light bunkers, as well as low flying aircraft. The troop compartment of the Whale-class is fully enclosed by amalgamated polymer lattice and titanium alluminide and AEGIS composite armor, providing protection against enemy fire for the troops inside. Dolphin-class LCPs are often used in infiltration missions, where it is important that the landing craft can remain invisible as long as possible before landing, allowing the UNSC to mount mid-range command raids.
The vehicle has one, unique for of defence and stealth, to allow them to get within 100 meters of most shores without revealing their positions. They are semi-submersible. They are capable of going underwater for extended periods of time, almost six hours. This allows them to sneak up relatively unnoticed by most observation systems, other than air or seaborne SONAR systems, though those are extremely rare. They can operate in two modes, broadcast mode, where all radio comms are open and they navigate using SATCOM uplinks or autistic mode, in which they cut all radio links and remain 'silent', using a crude periscope and online predictive GPS systems that memorises their last known position on SATCOM and predicts their course from here.
They have a hydrofoil design, with barely an inch of the main hull and only the waterjets that propel it being in the water. The front and rear water jets arms are articulated so upon arrive at shore, they fold up against the hull rather than sticking it the ground, meaning the Dolphin can be used again. Also, the forward pair of water jets fold in towards the body when submersed, reducing its detection potential and making it more streamlined and agile in the water.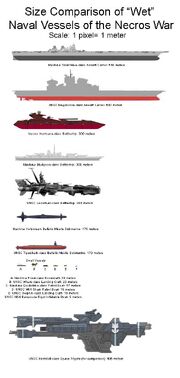 UNSC Remarks
"I know these things look just like the landing craft in some really old video game, but I can't remember which one!" -Anononymous Marine/Classic Gaming Afficianado
Ad blocker interference detected!
Wikia is a free-to-use site that makes money from advertising. We have a modified experience for viewers using ad blockers

Wikia is not accessible if you've made further modifications. Remove the custom ad blocker rule(s) and the page will load as expected.