Halo Fanon:Administrators
Talk

1
14,652pages on
this wiki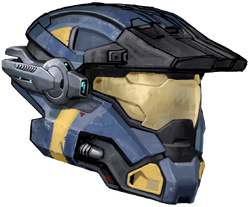 "Don't even bother lying — we can backtrace it."
―The Administration
The Administrators are the community leaders of Halo Fanon who maintain order and aide users on a day-to-day business. Currently, there's an active staff of 8 men and women consisting of 2 Bureaucrats and 6 Administrators. The symbol seen on the right is used to identify a staff member, and is placed at the top right of his or her userpage.
Background
What's an Administrator?
Different users have access to different functions of the site. While anyone can do most things on the site, including reading and editing, administrators can access a few additional functions.
Deleting and restoring pages and page histories. Administrators can also delete uploaded files, but cannot restore them.
Locking (protecting) a page so it can not be edited or renamed by users without admin rights.
Blocking IP addresses or user names from editing; and very quick "rollback" of undesirable edits.
Editing the interface by changing system messages and skins.
A bureaucrat can make other users into bureaucrats or administrators on their own wiki. They are also able to remove administrator access from any user to which it was granted. Please contact one of the community staff in the unlikely event that you need this done and cannot reach a bureaucrat.
Some Wikia staff members have full access to all Wikia. They will be shown in Special:Listusers/staff on any wiki. Please see the Central Wikia contact page for details on how to contact Wikia staff.
How do I use administrator powers?
See the administrators' how-to guide for a guide on using admin functions.
What can administrators not do?
Administrators should not use their administrator powers to settle editing disputes; for example, to lock a page on a version he or she prefers in an editing dispute that isn't vandalism. Administrator powers should be used to help keep the wiki clear of vandalism, spam, and users who make malicious edits, but not for simple disagreements between users acting in good faith. While an admin wasn't originally considered "in charge" of the wiki, however as our has wiki grown, the need for community-oriented administrators who take the initiative in leading the site and overseeing its content is standard procedure. The ideal admin is just someone who is trusted to have a few extra buttons and to use them for the benefit of the Wikia community with their personal issues and beliefs kept out of their professional duties.
List of Administrators
Current
Bureaucrats
Administrator Since
Bureaucrat Since

Sonasaurus

(

talk

•

e-mail

) (

contribs

• edits:

27,710

)
September 10, 2011
December 20, 2011

Ajax 013

(

talk

•

e-mail

) (

contribs

• edits:

15,414

)
November 4, 2007
November 7, 2013
Administrators

Leo Fox

(

talk

•

e-mail

) (

contribs

• edits:

8,091

)
February 24, 2011

StoneGhost

(

talk

•

e-mail

) (

contribs

• edits:

15,017

)
March 31, 2012

Actene

(

talk

•

e-mail

) (

contribs

• edits:

8,498

)
November 7, 2013

Ahalosniper

(

talk

•

e-mail

) (

contribs

• edits:

5,203

)
November 7, 2013

Brodie-001

(

talk

•

e-mail

) (

contribs

• edits:

5,552

)
November 7, 2013

Lordofmonsterisland

(

talk

•

e-mail

) (

contribs

• edits:

36,076

)
May 7, 2014
Retired
Bureaucrats
Administrative Term
Bureaucratic Term

H*bad

(

talk

•

e-mail

) (

contribs

• edits:

2,153

)
Jan 11, 2007—Jun 13, 2008
Jan 11, 2007—Jun 13, 2008

RelentlessRecusant

(

talk

•

e-mail

) (

contribs

• edits:

7,376

)
Jan 11, 2007—Sep 15, 2009
Jan 11, 2007—Sep 15, 2009

Rotaretilbo

(

talk

•

e-mail

) (

contribs

• edits:

5,723

)
Mar 12, 2007—Apr 4, 2010
Jun 5, 2007—Apr 4, 2010

Spartan-091

(

talk

•

e-mail

) (

contribs

• edits:

5,851

)
Jun 1, 2007—Dec 11, 2011
Mar 31, 2010—Dec 11, 2011

Subtank

(

talk

•

e-mail

) (

contribs

• edits:

11,754

)
Sep 2, 2008—Dec 20, 2011
Mar 31, 2010—Dec 20, 2011

Lordofmonsterisland

(

talk

•

e-mail

) (

contribs

• edits:

36,076

)
Sep 2, 2008—Nov 7, 2013
May 7, 2014—current
Dec 20, 2012—Nov 7, 2013
Administrators

Donut THX 1138

(

talk

•

e-mail

) (

contribs

• edits:

715

)
Mar 24, 2007—Dec 2, 2009

Leon2323

(

talk

•

e-mail

) (

contribs

• edits:

47

)
May 14, 2007—Jun 10, 2007

Dragonclaws

(

talk

•

e-mail

) (

contribs

• edits:

1,240

)
Nov 4, 2007—Dec 15, 2011

SPARTAN-077

(

talk

•

e-mail

) (

contribs

• edits:

2,501

)
Sep 2, 2008—Jan 31, 2009

Grizzlei

(

talk

•

e-mail

) (

contribs

• edits:

14,796

)
April 24, 2010—May 11, 2013

-AR-

(

talk

•

e-mail

) (

contribs

• edits:

5,386

)
April 24, 2010—Nov 7, 2013

Maslab

(

talk

•

e-mail

) (

contribs

• edits:

6,826

)
April 24, 2010—Nov 7, 2013
Current Biographies
Bureaucrats

Sonasaurus

After spending over a year on Halopedia, Sona eventually got tired of writing about Halo canon articles and decided to do something a little more imaginative. He joined Halo Fanon on November 16, 2008, and since then has made considerable efforts in building up a few expanded universe projects. When not on Halo Fanon or the numerous other wikis he is part of, he spends his time writing stories, making AMVs, drawing paper-to-digital art, songwriting, and making music on his computer. He spends his time on Halo Fanon running its community projects, hanging out on the IRC, doing much-needed expansion on his articles, and trying to figure out a way to make Ajax's death look like an accident.

Ajax 013

Ajax 013 is one of the most veteran users on Halo Fanon, and its currently longest serving administrator. He enjoys NCFing articles, elaborate revenge schemes and dominating the minds of lesser men. Fear him. On the 7th of November, 2013, after a dark ritual involving the sacrifice of hundreds of virgins (Which is most of Halo Fanon's user base), he ascended to the position of Bureaucrat. Now all that is left for him is the last two steps on his plan to world domination, the first being to build a giant slingshot, the second is using said slingshot to fire Sona into the sun.
Administrators

Leo Fox

Leo Fox began writing on Halo Fanon after being redirected to the site by Rotaretilbo, after having his original fanon work moved from Halopedia to Halo Fanon back in May 2007. Leo is a New Zealander formerly stranded in the United States, but engineered a highly successful escape to New Zealand in August 2011. He rather enjoys writing and spends a ridiculous amount of time drawing pictures no one really looks at. He also seems to find humour [Citation Needed] in most situations, and tends to talk too much, to the dismay of the IRC channel. He also enjoys drawing the ire of Sona: a skill he has honed over the years. He is currently two years into University studies at the University of Otago, pursuing a Bachelors Degree in Commerce (Majoring in Management), and plans to join the Royal New Zealand Navy as a Logistics Officer.

StoneGhost

StoneGhost joined Halo Fanon in April of 2009, starting work on his own universe which even today is largely incomplete. He enjoys creating articles and images based in two Halo Fanon expanded universes, particularly articles on weapons, vehicles and starships. He usually responds to messages in a helpful and timely manner, spends far too much time lurking on the IRC, and strives to contribute time towards site maintenance. StoneGhost is a keen sports player and a passionate reader of history. He is a resident of the UK, a History graduate, and spent two years as an Army Reservist.

Actene

Actene joined the site in 2008 and hit the ground running by winning his first award in the annual awards a few months later. Since then he has participated in several community projects and expanded his own meta-verse to include a diverse cast of award-winning characters. Connected to the community through the IRC, his talk page, and a round-the-clock observation of the recent changes page, he never tires of collaboration with other uses. When left to his own devices he delights in rewriting his own work ad infinitum, as the last version was disgustingly shoddy and this new version is the pinnacle of literary perfection. A member of the US Army reserve and a college student, Actene juggles his real world commitments with his dedication to the HFFW, which usually comes out on top of his priorities.

Ahalosniper

Arriving in mid-2009, ASniper remained largely ignorant of the site at large for over years, working on his own machinations in the background before joining the IRC and first connecting with other members of the community in 2012. In that time, however, he observed and learned through imitation the skills necessary to craft a quality article, and connected with newer users through talk pages rather than chats, taking the time to think out his responses. He looks forward to collaboration between users, and wishes that there would be more prose stories written on the site and articles would shoot for a wider range of annual awards.

Brodie-001

Brodie-001 wandered onto this site in mid-2010, looking for a place to set down his many story ideas. After nearly two years of quietly getting on with his work he finally braved the IRC and began interacting with his fellow users. He has since amassed a number of articles and has a habit of killing characters en-masse in his stories. While not writing fanon he takes the time to help lead his fellow fanoneers on excursions to Xbox Live in what has since been dubbed 'Halo Party Time'. Brodie currently lives in London, and spends most of his time playing games, not sleeping, and shouting at inanimate objects.

Lordofmonsterisland

An enigma from the bygone ages of '07, Lordofmonsterisland (crf. LOMI) quickly rose to power through his clean-up efforts, aid to new users and large quantity of written content. For several years afterwards, he manipulated events secretly served as an administrator to ensure the well-being of the site and provided a large number of examples unlimited power quality articles, even inspiring a few of the newer admins in their youthful days. However, in a bit of soul-searching to regain purposes, LOMI became one with the CABAL retired from his administrative and bureaucratic positions and ascended to a higher plane in late 2013.

Now, called to arms against the rubbish buried within the site and needing release from the growing, unwritten desires within him, LOMI returns to power once more, ready to smite n00bs and instill fear into the hearts of vandals everywhere.
Related Pages
Internal
External
Administrators on Halopedia — One of the wikis the Halo Fanon staff cooperates and maintains good relations with. Some staff members of the Halo Fanon Administration may also be members of the Halopedia staff which allows for a continuous friendly manner between users and the ability to share policies.