Halo Fanon:Administrators
Talk

1
18,097pages on
this wiki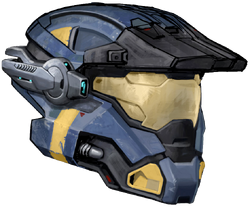 "Don't even bother lying — we can backtrace it."
―The Administration
The Administrators are the community leaders of Halo Fanon who maintain order and aide users on a day-to-day business. Currently, there's an active staff of 7 men and women consisting of 2 Bureaucrats and 5 Administrators. The symbol seen on the right is used to identify a staff member, and is placed at the top right of his or her userpage.
Background
What's an Administrator?
Different users have access to different functions of the site. While anyone can do most things on the site, including reading and editing, administrators can access a few additional functions.
Deleting and restoring pages and page histories. Administrators can also delete uploaded files, but cannot restore them.
Locking (protecting) a page so it can not be edited or renamed by users without admin rights.
Blocking IP addresses or user names from editing; and very quick "rollback" of undesirable edits.
Editing the interface by changing system messages and skins.
A bureaucrat can make other users into bureaucrats or administrators on their own wiki. They are also able to remove administrator access from any user to which it was granted. Please contact one of the community staff in the unlikely event that you need this done and cannot reach a bureaucrat.
Some Wikia staff members have full access to all Wikia. They will be shown in Special:Listusers/staff on any wiki. Please see the Central Wikia contact page for details on how to contact Wikia staff.
How do I use administrator powers?
See the administrators' how-to guide for a guide on using admin functions.
What can administrators not do?
Administrators should not use their administrator powers to settle editing disputes; for example, to lock a page on a version he or she prefers in an editing dispute that isn't vandalism. Administrator powers should be used to help keep the wiki clear of vandalism, spam, and users who make malicious edits, but not for simple disagreements between users acting in good faith. While an admin wasn't originally considered "in charge" of the wiki, however as our has wiki grown, the need for community-oriented administrators who take the initiative in leading the site and overseeing its content is standard procedure. The ideal admin is just someone who is trusted to have a few extra buttons and to use them for the benefit of the Wikia community with their personal issues and beliefs kept out of their professional duties.
List of Administrators
Current
Bureaucrats
Administrator Since
Bureaucrat Since

Lordofmonsterisland

(

talk

•

e-mail

) (

contribs

• edits:

22,179

)
September 2, 2008
December 20, 2011

Sonasaurus

(

talk

•

e-mail

) (

contribs

• edits:

22,388

)
September 10, 2011
December 20, 2011
Administrators

Ajax 013

(

talk

•

e-mail

) (

contribs

• edits:

12,503

)
November 4, 2007

-AR-

(

talk

•

e-mail

) (

contribs

• edits:

3,831

)
April 24, 2010

Maslab

(

talk

•

e-mail

) (

contribs

• edits:

6,113

)
April 24, 2010

Leo Fox

(

talk

•

e-mail

) (

contribs

• edits:

7,289

)
February 24, 2011

Athena32

(

talk

•

e-mail

) (

contribs

• edits:

10,995

)
March 31, 2012
Retired
Bureaucrats
Administrative Term
Bureaucratic Term

H*bad

(

talk

•

e-mail

) (

contribs

• edits:

1,457

)
Jan 11, 2007—Jun 13, 2008
Jan 11, 2007—Jun 13, 2008

RelentlessRecusant

(

talk

•

e-mail

) (

contribs

• edits:

6,516

)
Jan 11, 2007—Sep 15, 2009
Jan 11, 2007—Sep 15, 2009

Rotaretilbo

(

talk

•

e-mail

) (

contribs

• edits:

3,255

)
Mar 12, 2007—Apr 4, 2010
Jun 5, 2007—Apr 4, 2010

Spartan-091

(

talk

•

e-mail

) (

contribs

• edits:

5,198

)
Jun 1, 2007—Dec 11, 2011
Mar 31, 2010—Dec 11, 2011

Subtank

(

talk

•

e-mail

) (

contribs

• edits:

8,787

)
Sep 2, 2008—Dec 20, 2011
Mar 31, 2010—Dec 20, 2011
Administrators

Donut THX 1138

(

talk

•

e-mail

) (

contribs

• edits:

578

)
Mar 24, 2007—Dec 2, 2009

Leon2323

(

talk

•

e-mail

) (

contribs

• edits:

37

)
May 14, 2007—Jun 10, 2007

Dragonclaws

(

talk

•

e-mail

) (

contribs

• edits:

1,092

)
Nov 4, 2007—Dec 15, 2011

SPARTAN-077

(

talk

•

e-mail

) (

contribs

• edits:

1,395

)
Sep 2, 2008—Jan 31, 2009

Grizzlei

(

talk

•

e-mail

) (

contribs

• edits:

9,564

)
April 24, 2010—May 11, 2013
Current Biographies
Bureaucrats

Lordofmonsterisland

Having been around since August of 07, Lordofmonsterisland (LOMI, for short) migrated here after a short stint on Halopedia, which now is only a vague copy of social networking sites; as such, Halopedian serves as LOMI's Ban-T3h-N00b Handbook. Since becoming part of CABAL gaining admin powers, he's done his best to be as helpful and useful a user as possible, as well as filling the site with sarcasm and attempts at n00b-pwning. He has pwned all the Halo games, knows enough book knowledge to be deadly despite not owning any, and occasionally hijacks uses his friend's internet to gain creds online for Halo: Reach, though he may soon have LIVE of his own. His unholy army of kaiju, demons, undead, ninja-creepers, and deadly, pointed death-pencils are at the ready to come through your computer screen and feed your soul to Ajax should you be an evil monkey of nuisance. In his spare time, LOMI does dreaded schoolwork, writes things other than Halo, reads, and plays the Wii and Xbox 360.

Sonasaurus

After spending over a year on Halopedia, the Sonasaurus eventually got tired of writing about Halo canon articles and decided to do something a little more imaginative. He joined Halo Fanon on November 16, 2008, and since then has made considerable efforts in building up an expanded universe project with Maslab as well as making general improvements to the wiki. When not on Halo Fanon or the numerous other wikis he is part of, he spends his time writing stories, making AMVs, drawing paper-to-digital art, songwriting, and making music on his computer.
Administrators

Ajax 013

Ajax 013 is an administrator of the Halo Fan Fiction Wikia. He enjoys destroying peoples non-canon fanon, destroying people, and owning Halopedians in Halopedia Warz. Fear him.

-AR-

-AR-, is a British-Born, ideally Communist veteran of the Republic of Korea Army, having served as an Infantry Machinegunner with the 3rd Armored Brigade in Iraq. He joined Halo Fanon on 20 April in the year of 2007, concurrently with his younger brother, though the latter has for the most part ceased editing. AR re-enlisted in the Republic of Korea Army on 21 January of 2011, and after a period of service garrisoned with the Capital Mechanised Division in Bulgeundegi, he underwent Special Warfare selections and orientation: he is currently on deployment with elements of the 1st Special Warfare Brigade (Airbourne). Among his hobbies include Airsoft, Military Drills, Gaming, and Writing.

Athena32

Athena32 joined Halo Fanon in April of 2009, beginning a long transformation from newb to competent writer. He enjoys creating articles and images based in various Halo Fanon expanded universes, particularly articles on weapons, vehicles and starships. He usually responds to messages in a helpful and timely manner, spends far too much time lurking on the IRC, and strives to contribute time towards site maintenance. Athena32 is a keen sports player and a passionate reader of history. He is a resident of the UK, currently in his second year of university, and is an Officer Cadet in the University of London Officer Training Corps, a Territorial Army unit. He ultimately aspires to commission into the British Army.

Leo Fox

Leo Fox began writing here after being redirected to Halo Fanon by Rotaretilbo, after having his original fanon work moved from Halopedia to Halo Fanon by him, back in May 2007. Leo was a Kiwi-American high school student, that was stranded in the United States. He escaped America to the haven of New Zealand on the 22nd of August, 2011. He rather enjoys writing and spending a ridiculous amount of time drawing pictures no one really looks at, and, while quite pessimistic, seems to find humor [Citation Needed] in most situations - for better or for worse, and tends to talk too much in a pseduo-intellectual (or is it pseduo?) fashion. He plans to join the Royal New Zealand Navy as an Officer, with a degree in logistics management. He is currently largely inactive, due to internet difficulties at his home.

Maslab

Discovering Halo Fanon through a link he found in March of 09, Maslab began his work here by posting a story he'd written for an English class. Since then he's helped to create a timeline spanning beyond Halo Canon. He is an honest and helpful person.
Related Pages
Internal
External
Administrators on Halopedia — One of the wikis the Halo Fanon staff cooperates and maintains good relations with. Some staff members of the Halo Fanon Administration may also be members of the Halopedia staff which allows for a continuous friendly manner between users and the ability to share policies.