Halo Reach: Revelations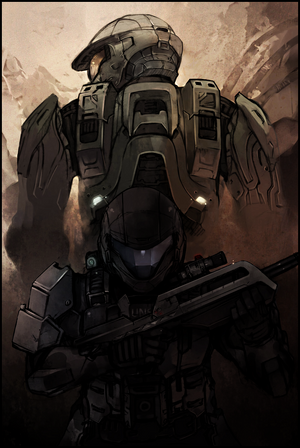 UNITED NATIONS SPACE COMMAND PERSONAL TRANSMISSION
Date Sent 19:42 Central Caprican Time — 1 April 2549
Flash 3771B2-Q4
Encryption Code NONE
Public Key :file/personal
From PRIVATE FIRST CLASS James Sawyer - 2nd MARINE DIVISION
To SENIOR CHIEF SPECIAL WARFARE OPERATOR John Sawyer - NAVAL SPECIAL WARFARE COMMAND
Subject I got a girl pregnant...
Classification Unrestricted (DOD-IC Level Ten)

/START FILE/UPLOADING FLASH MESSAGE
---
Hey dad, got some great news!
Just got word from NAVSPECWARCOM a couple days ago, and they've accepted me into an upcoming batch of Orbital Drop Shock Trooper candidates. The pogues at 2nd MarDiv HQ battalion apparently don't know that there's a war right now, so i'm scheduled to be shipping out to Basic Extra-vehicular activity Demolition (BEVAD/SEAL) School on 7 July, two years after my enlistment date! A few of my buddies from boot camp back in the Tau'ri system are already headed out for ODST training and they said the extra shore leave is incredible. Might have to get myself one of those sexy native Victorian girls!. Guess it pays to be in special operations!
Honestly dad, i'm surprised that they even let me apply for a simple physical...considering your history with the Orbital Shock Warfare Command and all; guess I must be some "special" exception to the Admiralty brass.
Mom told me to tell you that she's been missing you quite a bit. I know that there's probably some communique ban in whatever outer colony shithole your on, but i'm sure (with all of that special ONI tech at your disposal) that you can get back to her soon. Kinda miss those days back in the early-40's when you got to live back at home when the Empire decided it needed a nice space nap.
Anyways, nice talking to you again pops, hope to hear from you soon!
Sincerely,
Private First Class James Sawyer
3rd Battalion 8th Marines, 2nd Marine Division
Abbotsford, Caprica
P.S., no...this is not some silly April Fools Day joke, i've somewhat moved on from my shenanigan days.
---
/END/
/ARCHIVING PREVIOUS MESSAGE/