| | |
| --- | --- |
| | This article, Jahjah, was written by Lordofmonsterisland. Please do not edit this fiction without the writer's permission. |
Jahjah
Biographical information
Homeworld

Balaho

Date of birth

2546

Date of death

2617

Physical description
Rank(s)

Unggoy Ultra (formerly)
Unggoy Minister

Species

Unggoy

Gender

Male

Chronological and political information
Era(s)

Human-Covenant War
Rebuild Era
Necros War

Notable Events

Leader/Creator of the Unggoy Defense Force
First Minister of the Unggoy Protectorate

Affiliation

Covenant Empire
Covenant Separatists
United Sangheili Republic
Unggoy Defense Force
Unggoy Protectorate

  [Source]

Jahjah was the Minister of the Unggoy Protectorate prior to and during the first two years of the Necros War.
History
Early Life
Born into slavery in the final days of the Covenant Empire, Jahjah matured quickly like all Unggoy and was sent into service in the military. However, he only saw action in five battles before the Covenant Civil War began, at which point his Sangheili Shipmaster joined the Separatists. Jahjah and the rest of the crew assisted in fending off Jiralhanae boarding attempts before the ship jumped to Earth: there, the Flood had already arrived, and the Shipmaster ordered all Unggoy to stay aboard due to their ineffectiveness against the Flood.
Rebuild Era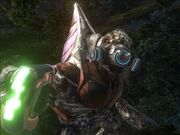 Jahjah continued to fight for the USR in the Post-War Era, advancing all the way to the rank of Ultra. When the Unggoy were banned from the Armed Forces in the later 2560's, Jahjah created a vigilante group called the Unggoy Defense Force: a small army of Unggoy who ignored the military ban, they continued harassment operations against the Covenant Remnants until 2577.
Minister of the Unggoy
In 2577, the Unggoy nearly started a Second Unggoy Insurrection, with the entire Protectorate demanding that the USR treat them better. After long negotiations, the USR agreed upon a psuedo-self-government for the Unggoy, and Jahjah stepped up to lead it as the Unggoy Minister.
Jahjah served as Minister faithfully in the pre-Necros era. He managed to further aleviate the Unggoy, and tried multiple times to bring the UDF, now led by Didak Yayip, into the Protectorate's fold, something he only partially succeeded in. After a popular vote was held, Davlem was elected his successor, and Jahjah mentored him till his death in 2617.
Description
Personality