| | |
| --- | --- |
| | This article, Jemsal 'Emvadson, was written by Lordofmonsterisland. Please do not edit this fiction without the writer's permission. |
Jemsal 'Emvadson(ee)
Biographical Information
Line Name

Benet

Lineage Name

Emvadson

Homeworld
Born

Eleventh Cycle, First Synchron, Twenty-Second Eclipse, 23rd Age of Doubt (June 15th, 2504)

Died

Fifth Cycle, Twelfth Synchron, Third Eclipse, 2nd Age of Freedom (April 4th, 2589)

Physical Description
Gender

Male

Height

7'3"

Skin

Brown-Grey

Eyes

Orange

Political and Military Information
Allegiance

State of Emvadson

Covenant Separatists
United Sangheili Republic

State of Emvadson

Branch
Unit

Lance of Unrelenting Reparation

First Wave
Second Wave

Rank

Ultra (Covenant, 2552)
Zealot (USR, 2589)

Title

Sword Master

Battles

Battle of Earth
Battle of Ceres
The Zeta Shield World Crisis
Battle of Ignito Prime

  [Source]
Jemsal 'Emvadson (Oracle Code: S2-T2352) was the second-in-command and then leader of the first two waves of the Lance of Unrelenting Reparation. A cunning warrior, he was chosen in 2537 by Holy Commander Ameigh Broley to be taught as her pupil with the intent for Jemsal to eventually take over her position as commander for the Lance, but this would prove difficult due to Jemsal's bull-headed style and negligence towards his team.
For several years, Jemsal would serve as the Lance's executive officer, leading smaller teams in diversionary tactics or to eliminate necessary objectives while Ameigh led the main force towards the objective. However, Jemsal's ability to lead was impaired due to his lack of respect for his squad-mates, something that would last until 2547, when Jemsal was saved from enemy interrogation by Ketynic, Jarikus, and Samorulan. After this, Jemsal's relations would improve with his teammates, to the point that when the Great Schism broke out, the Lance would undergo a miniature schism of its own, with some of the Jiralhanae, Yanme'e and Kig-yar staying with the Lance due to their loyalty for Jemsal.
Throughout the Schism, and on into the Rebuild Era, the Lance would continue to fight against rogue threats, either from the Kig-yar Pirates and Covenant Remnants, radical elements of the USR, or rogue factions from allied nations like the UNSC. However, in the late 2580's, the Lance would embark on a joint-AUR mission to end the threat of Nogard, a Precursor genetic experiment, in an all-out assault on his current base of operations. Things would go badly, however, and the operation would end in the deaths of many soldiers, including TROJAN Team Alpha and all of the Lance save Ameigh herself.
Biography
Early Life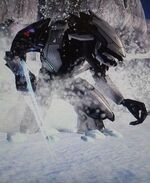 Second Battle of Sol System
Last Battle of Ceres
Battle of Ignito Prime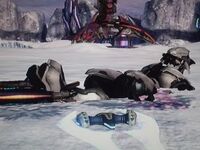 Description
Mental Report
Sources
Literary References