| | |
| --- | --- |
| | This article, Luzzda, was written by Lordofmonsterisland. Please do not edit this fiction without the writer's permission. |
Hatched in 2526 in the Heavens-Swirling-Mountain-Darkness Nest of Megaguirus, Ka'amoti, Green-swift-scar-stalker-bite[2] was to become one of the most highly respected Yanme'e of the 26th century. Known to most as Luzzda, due to the phonetic pronounciation of his name in the Yanme'e tongue, he would serve with other Yanme'e as an engineer aboard the Endless Justice for several years after his maturing in 2528. In 2533, the Yanme'e sub-hive would be deployed to a battle role, though still stationed aboard the Endless Justice, forcing Luzzda into the role of a warrior, against his natural tendencies.
After half a decade of service in the Covenant Army, Luzzda was recruited by the commander of the Endless Justice, Ameigh Broley, the Herald of the Gods herself. Transferred to the newly formed Lance of Unrelenting Reparation in 2540, Luzzda and two other compatriots, Sharnii and Va'nma, were brought into the Lance to serve as its combat engineers and, if need be, aerial support.
History
Early Life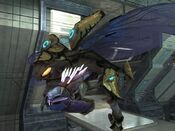 Alternate versions
Against All Odds
What If?
Description
Sources
↑ Named for the monstrous, prehistoric dragonfly Megaguirus of the Godzilla franchise
↑ This style of endonymic naming is based on the thought patterns of Dragons in the Inheritance Cycle by Christopher Paolini
Ad blocker interference detected!
Wikia is a free-to-use site that makes money from advertising. We have a modified experience for viewers using ad blockers

Wikia is not accessible if you've made further modifications. Remove the custom ad blocker rule(s) and the page will load as expected.