Halo Fanon
Writer of the Year

2017:

S-D379
Winner of the 2017 Best SPARTAN/Heroic Article award.
---
Oh hey there pal!! I'm S-D379, commonly called around here as CB379 or just CB for short. That's derived from my previous username Coolbuddy379, which might be the weirdest username you'll ever see, that's because my 12-year old self back then couldn't get any better ideas... anyways, welcome to my userpage where ye shall find salvation my works! You can call me S-D379, D379, Coolbuddy379, Coolbuddy, CB379 or just CB (More nicks than anyone else, I know). But, out of all seriousness, do NOT call me 'Cool' (Seriously, don't). Nobody calls me Cool, except for one pal... whatever.
Currently, I'm working on my expanded universe, the Novum Acies. It's simply the one expanded universe in which all of my in-universe articles are part of, so you can't really join it; it's not open for other users. But it's open for all users to give feedback, though; it's appreciated since it helps me in making the universe better. And oh, crossovers are welcome. I love crossovers.
Previous recipients: Sev40 (2016) • Minuteman 2492 (2015) • Brodie-001 (2014) • Stellar Elite (2013) • Actene (2012)
Good Articles

:

Delta Company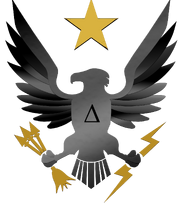 Delta Company, also known as SPARTAN-III Program, Class IV was a rogue class of super-soldiers developed in secret under the command of ONI Section Three's Beta-5 Division. Formed from the consenting candidates recovered between 2551 and 2552, the project was a radical change from its predecessors, with each Spartan intended to survive longer and used in smaller-scale stealth missions, rarely ever being deployed as a complete unit. For this reason, their comparatively shortened training program emphasized their ability to work as a team while also rewarding some independent decision-making skills. At the same time, attachments or bonds to non-Spartans who weren't their commanding officer or even their peers in other teams were strongly discouraged, with each team developing a strong sense of competitiveness against each other. This method of extensive stealth, Headhunter-like training structure allowed them to perform best against a range of comparable opponents, even going as far as other Spartans. After undergoing their experimental augmentation procedures, the Deltas who survived were provided with the MJOLNIR Powered Assault Armor, used by the legendary SPARTAN-IIs, and were deployed on various black operations and hunter missions. Although the company was ultimately disbanded after being discovered, the Deltas continued to be a vital weapon against high-value targets such as rogue spartans for years afterward, and were proved to be important assets after their actions during the Created crisis.
Read more»
Latest News
Good Articles! — Know of a quality article that you think deserves its moment to shine? Let us know about it here, and it could earn Good Article status like Marco-025 by Brodie-001.
Fanon of the Month — Fanon of the Month has returned! Everyone can nominate and vote for articles that deserve recognition here! This month's Featured Article is: Team Anion by Spartan-D042.
Ongoing Roleplays — Looking for an RP? Our Jaeter's Protectors, Imperium, and Spartan roleplays are currently ongoing, so be sure to check them out!
Latest blogs
Fanon of the Month

— November 2018:

Team Anion

"The things we do to keep humanity safe do so often mean doing it harm."
―Codename: MAGICIAN on deploying Anion

Team Anion was a team of SPARTAN-III commandos of Delta Company who were near-exclusively utilized to eliminate high value targets both individual and group, especially targets deemed as extremely dangerous. With each member bringing a specialized set of skills to the table, they rely on each other heavily to execute their individual role flawlessly in order to successfully complete their mission. This reliance on one another was heavily reinforced during their time in training, but was also punished as each Spartan had difficulty operating individually in sharp contrast to their sister team; Team Nova. Their lack of individual sufficiency, but incredible efficiency as a team left their ranking somewhere in the middle of Delta's team ranking. Following the discovery and investigation of Delta Company, Anion quickly became one of ONI's favored hit-squads and garnered a fearsome reputation. Even in the throes of the Created Conflict, and in spite of losses and shoehorned replacements, Anion remained a killing machine that dreaded across the galaxy.
Read more»
---
Previous featured articles: Simon-G294 • Edmond Dahm • Blake Karmyn
Helping Out
To write a new article, just enter the title in the box below.
Not sure where to start?

Find out more about the wiki on the About page.
If you are new to wikis and in need of an edit-specific help, check out the tutorial and editing help page.
Questions? If you have questions you can post them at our community center, the Main Page discussion.

Adding content

Want to try something out? Check out the Sandbox, where you can test out any of the wiki code.
Uploading images is another really easy way to help out - see the Special:Upload page!
You can find a list of useful templates on Category:Templates.

Talk and more...

Check out the forums to see what the community is working on, to give feedback or just to say "hi".
Community Links
Bungie.net
Homepage of Bungie Studios
Waypoint
Halo Waypoint, managed by 343 Industries
HBO
Ultimate fansite for everything Halo!
Halopedia
The definitive source for Halo information!