Home
Talk

281
17,888pages on
this wiki
Article of the Year

:

David Kahn

by

Actene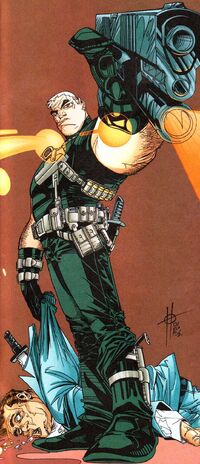 "Mr. Chairman, please don't pass me off as some common thug or hit man. To someone like me, those kinds of scum are just a bunch of kids playing around in the muck with their daddies' guns. Now me, I'm a professional. That means I make sure to get the job done, no matter what's in the way. I'm not going to just point a gun and pull a trigger. I'll plan it out, understand every angle, and do what I've been hired to do before your enemies even have a clue that someone's after them. And no matter what, I'll always survive to get paid. Now, do you want to hire me or not?"
―David Kahn to a skeptical employer

If you want to kill someone, hire a hit man. If you want to kill someone closely guarded, utterly secluded, or completely untouchable, hire David Kahn.
Indisputably the best mercenary and assassin-for-hire in the galaxy following the Great War, David Khan rose out of a brutal past to fight in the tail end of the Human-Covenant War and gained both prestige and infamy following the conflict when he began selling his considerable skills to the highest bidder. Responsible for countless successful mercenary operations and for the assassinations of innumerable politicians, dignitaries, criminals, and warlords, Kahn was a relentless hunter willing to take on any job, no matter how impossible the task might have seen. As cunning and meticulous as he was lethal, Kahn was as respected and feared by his employers as he was by those who sought his death or incarceration.
Aside from his highly successful career as a solo freelancer, Kahn was also the illegitimate parent of the Spartan Cassandra-G006 and instrumental in the training of the Humanity Liberation Front's operative Nimue, devoting over a decade to her instruction and upbringing.
Read more»
Second place Article: Shinsu 'Refum • Third place Article: Rebeka Juhász
Latest News
Annual Awards — The 2013 Halo Fanon Annual Awards are here! Nominate and vote here on your picks for this year's most outstanding articles!
Fanon of the Month — Fanon of the Month has been restructured! Get started on nominating and voting for the wiki's best new user articles here! This month's Featured Article is: New Liberty by Sierra-A143.
Good Articles! — Know of an article that you think deserves its moment to shine? Let us know about it here, and it could earn Good Article status like The Swarm by Athena32 and SheWhoKnows.
Good Articles

:

Halo: Side Factions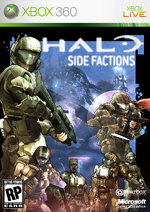 Halo: Side Factions is a first-person tactical shooter video game, developed by Gearbox Software and published by Microsoft Innovative Arts for the Xbox 360 console. The game entails a direct chronicle, directed by 343 Industries, which will be based on the science fiction events and settings of the Halo Universe.
The game focuses on the troops of Oscar and Victor Squad as they fight on multiple locations on Earth to save the human inhabitants and the planet from a collective of alien races known as the Covenant. The player assumes the roles of Corporal <insert name here> and Gunnery Sergeant XXX, squad leaders of Victor and Oscar respectively.
Read more»
Helping Out
To write a new article, just enter the title in the box below.
Not sure where to start?

Find out more about the wiki on the About page.
If you are new to wikis and in need of an edit-specific help, check out the tutorial and editing help page.
Questions? If you have questions you can post them at our community center, the Main Page discussion.

Adding content

Want to try something out? Check out the Sandbox, where you can test out any of the wiki code.
Uploading images is another really easy way to help out - see the Special:Upload page!
You can find a list of useful templates on Category:Templates.

Talk and more...

Check out the forums to see what the community is working on, to give feedback or just to say "hi".
Community Links
Bungie.net
Homepage of Bungie Studios
Waypoint
Halo Waypoint, managed by 343 Industries
HBO
Ultimate fansite for everything Halo!
Halopedia
The definitive source for Halo information!