| | |
| --- | --- |
| | This article, Ratag-Argenta Ballistic Missile Submarine-1, was written by Ajax 013. Please do not edit this fiction without the writer's permission. |

The Ratag-Argenta Ballistic Missile Submarine-1, or Hellscream-class, ballistic missile submarine made with the help of the Argenta Clan, is very similar to the UNSC Tigershark, has few modular sections, but a varied missile armament. Also carries six forward torpedo tubes and two rear.
Description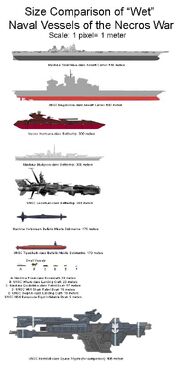 Modular Sections
Missile Launch tubes may launch any of the following:

Sledge Hammer Cruise Missiles
Foe Hammer Cruise Missiles
Claw Hammer SAMs
anti-capital ship missiles
nuclear missiles
Ship of the Line
Image Credits
The image was created by Doc-Evilonavich of DeviantArt
Ad blocker interference detected!
Wikia is a free-to-use site that makes money from advertising. We have a modified experience for viewers using ad blockers

Wikia is not accessible if you've made further modifications. Remove the custom ad blocker rule(s) and the page will load as expected.