| | |
| --- | --- |
| | This article, SPARTAN-B095, was written by Ajax 013. Please do not edit this fiction without the writer's permission. |
Motoko-B095
Biographical information
Name

Motoko Aramaki

Spartan Tag

B095

Homeworld

Mars

Date of birth

12 of March, 2595

Gender

Female

Height

6'4" feet

Hair color

Dyed purple, naturally dark brown

Eye color

brown-red

Cybernetics

Neural Interface

Affiliation and military information
Affiliation

UNSC

Rank

Sergeant

Specialty

Information warfare, AI interface, hacking, Wolf piloting, unarmed combat and assault

Class

SPARTAN-IV, 1st Battallion, Bravo Company, Purple Platoon

  [Source]

Motoko-B095 is a SPARTAN-IV of 1st Battallion, Bravo Company, Purple Platoon, Squad Magenta, team leader.
Appearance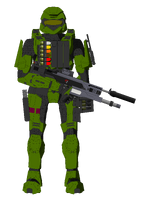 Motoko has a lean frame and athletic body which still retains attractive qualities that she uses to her advantage. Her hair is dyed purple, a sort of quasi attachment to her unit and her eyes are a unique shade of red-brown.
Mental Report
Motoko has been noted as being heavily scitzophrenic in many different ways. In her personality she is on one hand possessing a slightly 'cooky' personality, which is both somewhat playful and jovial. On the other hand her personality can be cold and proffessional, with her being cool under fire, aggressive in combat and holding a commanding presence. This earned her position as a squad leader which, while she is closely attached to the SPARTANS under her command, being able to closely relate to them and trade insults with them as well as doing the same with her superiors and on the other hand, she is a lone wolf, working ahead of her men to clear the path or working behind the lines to make their work easier or taking entirely different assignments to work towards the same goal. She is noted as also having little remorse to what she views as 'traitors', namely humjan rebels.
Preferred Weapons
She relies primariy on sidearms and small PDWs or Carbines, opting for weapons that are lightweight and powerful, giving her a powerful punch for the least amount of weight. She is also a certified and adept Wolf pilot, though does not usually pilot one.
Strengths
Motoko is primarily a specialist in information warfare, special operations and hacking. She can breach a UNSC barrier in 24.6 seconds, one of the best outside of ONIs specialists. She is also adept at AI interfacing, being capable of syncing and operating well with AIs. In combat she is highly acrobatic and effecient, capable of either brutal and effencient motions and flamboyant motions, graceful and deadly. She is highly effecient and accurate with her weapons and capable of diffirentiating between killing moves and disabling moves.
Weaknesses
Her primary weakness is her sort of self reliance. She doesn't wish to burden her squad with her actions and constantly elects to go it alone, meaning she puts herself in danger.
History