| | |
| --- | --- |
| | This article, Semi Powered Infiltration Armour Mark III, was written by Ajax 013. Please do not edit this fiction without the writer's permission. |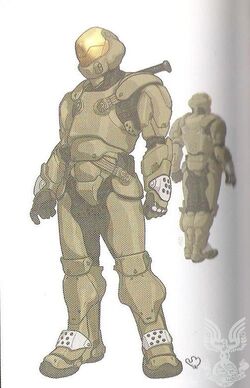 The Semi Powered Infiltration Armour Mark III is the latest generation of the SPI armour. The armour uses a wide range of stealth a defensive systems to retain that neither the users physical condition or stealth ability are compromised.
The armour is fitted with a 2606 Thermo-optic camouflage system. The technology works by utilising the existing energy shields projection systems. By carefully controlling the plasma field around the user, arranging it into multiple layers of certain density, the plasma can absorb light of certain wavelengths, ranging from ultra-violet to visible light and infra-red and it can also be actively tuned. This allows the user to become invisible to optical sighting systems, such as camera systems and most importantly, eyes, and to infra-red systems, such as infra-red cameras, thermal cameras and certain kinds of motion detectors.
The armour uses a composite layer utilising a upperlayer of titanium allumnide then a resin bonded composite of a thick layer of AEGIS tile inserts and graphite composite carbon fibre with a next layer of liquid nanocrystal. This is is of high thickness, making the armour quite heavy compared to the M7 or the M4A2. It does however hold a lot more protective capabilities. The armour is thermal and EM masked, along with holding advance CTC, IFF, Motion Sensors and HUD systems. The armour has a protected cyber warfare system, liquid state war fighting systems, metamaterial antennae and adaptive audio system, to both protect and enhance the user's listening abilities. It also holds hybrid infra-red and night vision systems. Thanks to improvements in the energy system, using a new, enhanced fusion reactor, it can support it's active camouflage systems for almost 6 hours while supporting a grade 2 shield system.
The Armour is mostly used by First Echelon special forces participating in direct action and dangerous combat zones.
The armour has the ability to clip on various Battle Equipment Utilities.