| | |
| --- | --- |
| | This article, Tanica Jastenon, was written by Lordofmonsterisland. Please do not edit this fiction without the writer's permission. |
Tanica Jastenon
Biographical information
Homeworld

Regalis V

Physical description
Gender

Female

Chronological and political information
Era(s)
Affiliation

  [Source]
Oden Benvora: "Tanica, please! Don't you see, you're being used by them! Please, Tanica? I loved you"
Tanica Jastenon: "I cannot return, not even for you: don't make me destroy you"
―Tanica Jastenon and Oden Benvora after the splitting of the Fated Eight
Tanica Jastenon was a member of the Machina's Fated Nine combat team, and later joined the Necros Sympathizers.
History
Early Life
Necros War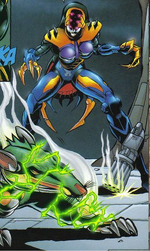 Description
A member of the "Reformatters" spiritualist sect, Tanica was among the few Machina who believed they had eternal souls and that, through the acquiring of knowledge and understanding of the soul, they might achieve a higher state of being: beyond even this, Tanica believed that the power and life of another's spirit was bestowed upon oneself should they be present when said being died, including if he were killed or murdered.
Because of these beliefs, Tanica joined the Machina special forces early in life, both to learn knowledge from other races and to gain the power of other beings spirits: when it was formed, Tanica was assigned to the special forces team known as the Fated Nine.
Personality
Frame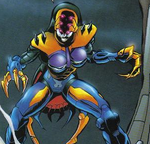 DIVINE ROSE System
QUEEN OF THE NIGHT System
SOLEMN MAGNOLIA System
HALLOWED LOTUS System
VINDICTIVE THISTLE System
JILTED ANEMONE System
FICKLE ERICA System
TRAGIC ALLIUM System
FAITHLESS DIGITALIS System
Trivia
Tanica is based slightly on the Transfomer Botanica from Beast Machines, using pictures of Beast Machines/Universe Blackarachnia as well.
Ad blocker interference detected!
Wikia is a free-to-use site that makes money from advertising. We have a modified experience for viewers using ad blockers

Wikia is not accessible if you've made further modifications. Remove the custom ad blocker rule(s) and the page will load as expected.