| | |
| --- | --- |
| | This article, Teel 'Arbadee, was written by Spartan 501. Please do not edit this fiction without the writer's permission. |
Teel 'Arbadee
Biographical information
Homeworld

FT-329 (Gloriously Bright)

Date of birth

2525

Date of death

Unknown

Physical description
Rank(s)

Ultra

Species

Elite

Gender

Female

Height

8'6"

Weapons

Plasma Rifle, Energy Sword

Equipment

Camo

Vehicles

Ghost, Banshee

Hair color

N/A

Eye color

Black

Cybernetics

N/A

Chronological and political information
Era(s)

2525-N/A

Subclasses

Ultra

Notable Events

Became a Brain Form

Affiliation

Covenant, Flood

  [Source]

Born to a rich family who wanted a male son, she was despised for her very existence, and for the fact that she was deemed to weak to be a military soldier due to her gender. However, she persisted to join the acadmemy, and due to sky high grades, was deemed Ultra after leaving the academy, a feat unheard of. And then she was forgotten. She was placed in the planetary garrision, and left there. While others went off to fight the humans, she stayed in the barracks. Until one day she was told to go watch over a group of scientists burrowing to the core in search of Forerunner Technologies. She was there almost a month, until a new arrival, Ldgh 'Rehodee came, and to her surprise, he treated her with respect, and the two started a relationship. However, after months, it was interuppted when the scientists found a forerunner relic and went inside. After two days that had not been heard from, so 'Rehodee and 'Arbadee went inside. They were ambushed by flood, and 'Arbadee was captured and dragged to the darkest depths of the sturcture, once there, she was assimilated and became a brain form, using the bodies of the scientists. She then began to direct the flood, hoping to gain access to startravel to escape the planet and spread.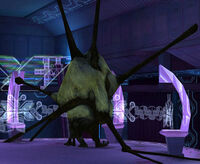 Ad blocker interference detected!
Wikia is a free-to-use site that makes money from advertising. We have a modified experience for viewers using ad blockers

Wikia is not accessible if you've made further modifications. Remove the custom ad blocker rule(s) and the page will load as expected.