| | |
| --- | --- |
| | This article, Tigershark-class Ballistic Missile Submarine, was written by SPARTAN 119. Please do not edit this fiction without the writer's permission. |

Tigershark-class Submarine
Production information
Manufacturer

various shipyards

Technical specifications
Length

170 meters

Height

35 feet

Mass

18000 tons

Engine Power

HCW: Nuclear Reactor
NW: Plasma Fusion Core

Armour

Titanium A (Human-Covenant War)
AEGIS (Necros War)

Sensor Systems

HCW: SONAR, GPS (on planets with network of sattellites or orbiting UNSC spaceships)
NW: advanced SONAR, GPS (on planets with network of sattellites or orbiting UNSC spaceships)

Armament

Human-Covenant War

22x vertical launch tubes for Shiva nuclear and cruise missiles
20x vertical launch tubes for Argent surface-to-air missiles
6x forward-firing torpedo tubes
2x rear-firing torpedo tubes

Necros War

22x vertical launch tubes for TOXIN ballistic missiles, CORROSION conventional anti-spacecraft missiles, AVENGER nuclear missiles, APOCALYPSE antimatter missiles, or any other UNSC nuclear or antimatter weapon
20x vertical launch tubes for STINGER surface-to-air missiles
6x forward torpedo tubes for Mk 2 CNIDOCYTE torpedoes
2x rear torpedo tubes for Mk 2 CNIDOCYTE torpedoes

Other systems

electrolysis device to produce oxygen from seawater, allowing the sub to stay underwater indefinitely.

Usage
Role(s)

ballistic missile submarine, planetary-based anti-space weapon, nuclear missile launch platform

Counterpart(s)

N/A

Era(s)

Human-Covenant War
Necros War

Affiliation

UNSC

  [Source]

The Tigershark-class Ballistic Nuclear Submarine is a form of planetary naval vessel in use by the UNSC, first used late in the Human-Covenant War all the way through the Necros War.
Operational History
Human-Covenant War
The Tigershark-class was developed in 2550 to satisfy a need for a stealthy missile launch platform. The Tigershark was designed to fire conventional, nuclear and later antimatter missiles (antimatter warheads were available on the Tigersharks only after the human- Covenant War) at orbiting Covenant spacecraft and Covenant land forces while sumerged beneath the surface of a body of water on the planetary surface. The submarines proved themselves successful at the Battle of Reach and the First and Second Battles of Earth, destroying several Covenant capital ships in orbit around the planets (although due to Covenant ship's heavy shielding and armor, the half to all of sub's payload was often needed to destroy a large Covenant ships). The Tigersharks also fired conventional cruise missiles at concentrations of troops, decimating Wraith formations thousands of miles away. The Covenant were initially terrified of the Tigersharks, as they had never experienced submarine-launched missiles, which seemed to the Covenant to come out of nowhere. The Covenant, however, eventually figured out that the submarines were in fact responsible for the loss of several cruisers orbiting Reach and a light carrier, a supercruiser, and several light capital ships orbiting Earth and modified their Seraph and Type 54 Phantom Gunship-dropped plasma charges to explode underwater at a set depth, creating the first Covenant depth charges. One particularly well-known Tigershark that saw action was the UNSC Seawolf, stationed at Yokosuka Naval Base in Japan. Under the commmand of Captain Takashi Yanagi and Commander Bjorn Karlsson, the sub accounted for the destruction of a supercruiser, two destroyers, and two corvettes with its nuclear missiles, and the destruction of several land targets using conventional cruise missiles, including Wraith and Scarab formations, a series of bridges near Aikawa, Japan, and most famously, the Three Gorges Dam in then Covenant-occupied China, the destruction of which flooded out numerous Covenant ground forces.
Remnants War
In the 2590s, the Tigershark-class was updated for use against the Covenant Remnant forces. The sub was equipped with modernized SONAR and sensory systems, as well as a more efficient plasma fusion core to replace the older nuclear reactors. The Argent V SAMs were replaced with new STINGER surface-to-air missiles and the Shiva nuclear missile launch tubes were modified to fire either TOXIN conventional ballistic missiles for surface-to-surface use, CORROSION conventional surface to capital ship missiles, AVENGER, RETRIBUTION, APOCALYPSE, ARMAGEDDON, or other nuclear or antimatter missiles for surface-to-surface and surface-to-orbital uses. Six foreward-firing and two rear-firing torpedo tubes were also added to deal with surface ships and submarines.
Necros War
The Tigershark-class saw use on practically all of the battles in the Necros War that took place on a planet that had an ocean. The sub was effective of destroying even large Necros spacecraft in orbit thanks to it's ability to carry multiple AVENGER nuclear missiles and APOCALYPSE or ARMAGEDDON antimatter missiles. The sub was also effective against Necros Hurricane-class Missile Frigates, thanks to it's torpedoes and long range cruise missiles. The Tigershark also struck at ground targets with it's formidible array of missiles. All in all, the Tigershark proved a versitile naval vessel, playing the role of anti-spacecraft platform, standoff missile system, and attack submarine.
Description
The Tigershark looks similar to a modern day submarine, being about 500 feet long. Offensive armament consists of 22 launch tubes for Shiva nuclear missiles or conventional cruise missiles which can be fired while surfaced or underwater. 20 vertical launch Argent SAM launchers, which like the offensive missile launchers, can be fired on the surface or underwater, make up the anti-air defensive armament.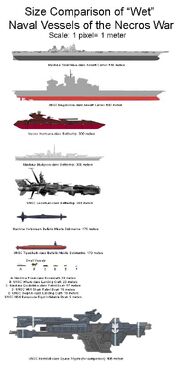 Ships of the Line
UNSC Tigershark
UNSC Bullshark
UNSC Shot in the Dark
UNSC Blade of Death
UNSC Hail of Fire
UNSC Megaton Hammer
UNSC Final Shot
UNSC Bloody Conclusion
UNSC Seawolf
UNSC Wolfpack
Ad blocker interference detected!
Wikia is a free-to-use site that makes money from advertising. We have a modified experience for viewers using ad blockers

Wikia is not accessible if you've made further modifications. Remove the custom ad blocker rule(s) and the page will load as expected.