| | |
| --- | --- |
| | This article, Trekker-class Cargo Ship, was written by Maslab and Echo 1125. Please do not edit this fiction without the writers' permission. |
Trekker-class Cargo Ship
Production information
Manufacturer
Product line

Cargo Ship

Class

Trekker

Technical specifications
Length

779 m

Width

212 m

Height/depth

151 m

Mass

1.25 tonnes

Maximum acceleration

1,236 m/s2

Maximum speed (Space)

102,026 m/s

Maximum speed (atmosphere)

31,000 m/s

Engine unit(s)

Aperture Science Compulsory Drive

Slipspace Drive

FT-1 Slipspace Generators

Slipspace velocity

1,216 ly/day

Power output

251 Terra-watts

Power plant

2 Fusion cores
Backup Hydrogen engines

Hull

.75 m Titanium-A

Sensor systems
Navigation system
Crew

10

Minimum crew

5

Passengers

300

Usage
Year introduced

2571

Role(s)

Cargo Ship

Era(s)

Post Human-Covenant War

Affiliation

  [Source]
Design

The Trekker-class cargo ship was designed to maximize cargo space and speed as well as allow space for upgrades, making it a longer term cargo ship than most.
Cargo Space
Most of the ship is taken up by cargo space, readily accessible by an elevator that rounds through the bridge and living quarters. Catwalks and easily movable folding storage racks are hung from the ceiling, allowing easy rearrangement of cargo.
Modularity
As the cargo ship was originally designed for the UNSC to run weapons and sensitive cargo, the civilian version retains the same weapons hard-points, allowing those with the proper licenses to purchase civilian-grade starcraft weapons.
External cargo pack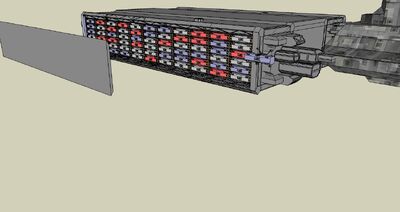 These vessels are capable of being fitted with large storage containers, in effect turning the vessel into an over-sized Tug vessel. Such external modules are affixed to the stern of the vessel via specialized tow points. When linked this acts as a large booster and provides the vessel with energy and supplies.