| | |
| --- | --- |
| | This article, Type-3 Holo-Projector, was written by Ajax 013. Please do not edit this fiction without the writer's permission. |
This is a fanon expansion of a canon element. To see the original canon article, follow the link to Halopedia:

Holo-Drone

.
The Type-3 Holo-Projector is a piece of USR equipment.
Description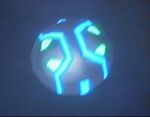 Holo-Drones are small, mobile, spherical drones capable of remote use, using anti-gravity generators for propulsion, used for the creation of high-quality holographic realtime images. They are used for several functions, allowing face-to-face communication over relative short distance, providing holographic duplicate decoys of important personnel, and engaging enemy forces without risking allied personnel.
They are relatively weak in battle, and a direct shot will result in static washing over their form, betraying their holographic nature. Though they possess rudimentary shields, and are somehow cabable of using actual weapons, they don't seem to be dedicated combat equipment. Physically, they resemble unactivated Plasma Grenades able to slowly fly through the air, though slightly larger.
The main purpose of Holo-Drones is either for communication with allies (or taunting/frightening enemies) and to cause enemies confusion during a battle, as there would be multiple of one target.
UNSC Remarks