| | |
| --- | --- |
| | This article, Type-49 Energy Stream Sniper System, was written by Echo 1. Please do not edit this fiction without the writer's permission. |
| | |
| --- | --- |
| | This article, Type-49 Energy Stream Sniper System, is currently under active construction. |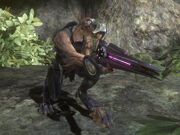 Type-49 Energized Particle Stream Sniper System
Production information
Type

49-β

Technical specifications
Size

4' 2"

Damage Per Hit

Medium

Magazine Size

4 bursts

Maximum Ammunition

20 bursts (5 magazines)

Ammunition Type

stream of energized particles

Rate of Fire

1 burst per 3 seconds

Accuracy

high

Range

720 meters

Usage
Era(s)

Pre Human-Covenant War

Counterpart(s)

Type-52 Focused Particle Beam Sniper/ Type 50 Sniper Rifle System

Counterweapon(s)

BMR

Affiliation

Covenant

  [Source]

The Type-49 Energy Stream Sniper System was a Covenant sniper rifle used in the early days of the Human-Covenant War. It was heavy, bulky, and overall poor on the battlefield. It was scrapped for the Type-52 Focus Rifle. It is commonly called the 'Stream Rifle'.
History
Early History
The 'Stream Rifle' was first developed by Covenant weapon specialists about forty Earth-years before the Great War. The Stream Rifle became common among Jackal Snipers, and was widely used. During internal disputes, sniper towers would be mounted with fixed Stream Rifle emplacements. Although the weapon was large and poor in manuverability, it made its way into the Human-Covenant War.
Great War
During the Great War, Jackal sniper towers would normally be fitted with at least two Stream Rifles. Although its success rate was diminished, it held strong until the Focus Rifle became a more popular choice for snipers.
Last Attempt
In a last attempt to keep the rifle in service, weapons specialists created a version that was smaller, lighter, and more useful on the battlefield.
Type-49 Energy Stream Sniper System/ PB SpecApps
Production information
Type

49-α

Technical specifications
Size

3' 9"

Damage Per Hit

Heavy

Magazine Size

8 bursts

Maximum Ammunition

32 bursts (four magazines)

Ammunition Type

Particle Beam

Accuracy

high

Range

800 meters

Usage
Era(s)

Mid Human-Covenant War

Counterpart(s)

Type-50 Sniper Rifle System

Counterweapon(s)

BMR

Affiliation

Covenant

  [Source]
It was put to the test on many battlefields, but was overall outridden by the Focus Rifle.