| | |
| --- | --- |
| | This article, Type-6 Orbital Insertion Pod, was written by Ajax 013. Please do not edit this fiction without the writer's permission. |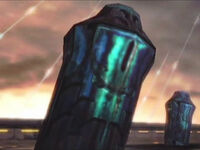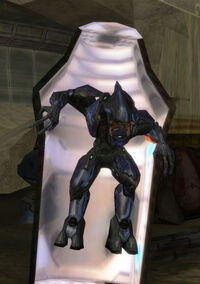 The Type-6 Orbital Insertion Pod is a piece of equipment used by the USR.
Description
The Orbital Insertion Pod is used by the United Sangheili Republic's Assault Troopers division for orbital drops. The pod stands 12 feet tall, capable of accommodating even tallest of the Sangheili warriors. The outer casing is plated with a heavy metal used on USR heavy vehicles so that it can withstand the heat of orbital entry, as well as the heavy impact into the ground. It is painted with an auto-camouflage coating, giving it a slightly translucent appearance; this allows for slight stealth capabilities, keeping it hidden from enemies while the warrior inside prepares to exit, or keeping them safe if they should have suffered injuries/are unconscious, or the pod itself is damaged, and cannot effectively exit. Inside the pod, a form-fitting gel keeps the Sangheili warrior in the tightest possible position, protecting him from the jars and bumps of entry. In addition, there are weapon storage slots on either side, capable of holding one large weapon (such as a Beam Rifle), a medium and a small one (such as a Fuel Rod Cannon and a Plasma Rifle) or three small ones (such as a Plasma Rifle).
UNSC Remarks