UNSC Army
| | |
| --- | --- |
| | This article, UNSC Army (TSC), was written by CarpeJugulum. Please do not edit this fiction without the writer's permission. |
| | |
| --- | --- |
| | This article, UNSC Army (TSC), is currently under active construction. |
UNSC Army
Active

2163-present

Allegiance
Branch
Battles

  [Source]

The UNSC Army is the branch of the UNSCDF responsible for security on Earth and its colonies. It is very rare that an Army unit will engage in operations not pertaining to either garrison or anti-terror operations, as the Marine Corps is usually the branch of choice for waging campaigns outside UNSC-controlled space.
History
The UNSC Army was, like its sister branches in the UNSC Defense Force, formed in the wake of the Interplanetary War. Army units fought during the Battle of Earth, and were integral to the defense of many major cities.
UNSCDF Ranking System
Enlisted
Officers
Equipment
Armor
M34 Infantry Combat Suit
Main article: M34 Infantry Combat Suit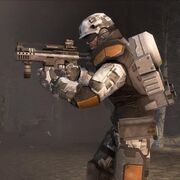 The Army uses a similar model of body armor to the Marine Corps. The M34 Infantry Combat Suit, alternatively known as the Achilles System, features a highly-functional HUD which has mini-map able to show the location of friendly units and objectives, indicate how many rounds are left in your magazine and how many spare magazines you have, and the suit's integrity based on a 1 to 100 scale. The suits are also fitted with a low-level energy shield.
"They call it the Achilles, and at first we all thought, "Oh hell, there's some flaw." But no, it works like a charm. It's even hardened against anything but an EMP within half a mile."
―UNSC Ranger

The Army Rangers use their own specialized version of the Achilles system, colloquially known as Nightstalker. This armor utilizes the same shielding and HUD as the Achilles, but also employs a low-level active camouflage system that helps to hide the Rangers in the shadows. It is less effective in the day, and, it has been remarked, often quite annoying.
D94 Infantry Combat Suit
Main article: D94 Infantry Combat Suit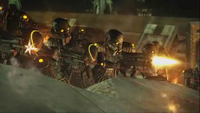 The D94 Combat Suit is an experimental powered armor system based off of the older MJOLNIR armor system. Produced jointly by a UNSC and Sangheili team, the D94 is most similar to the combat armor worn by Sangheili in the Human-Covenant War. However, it utilizes the same strength-enhancing systems inherent in the MJOLNIR system, albeit to a lesser extent.
Battle/Assault rifles
Sniper rifles
Submachine guns
Shotguns
Rocket/grenade launchers
Energy weapons
Sidearms
Grenades
Vehicles
Battle tanks
Artillery
Light armored vehicles
Aircraft
Units
Known Personnel
Ad blocker interference detected!
Wikia is a free-to-use site that makes money from advertising. We have a modified experience for viewers using ad blockers

Wikia is not accessible if you've made further modifications. Remove the custom ad blocker rule(s) and the page will load as expected.