Ad blocker interference detected!
Wikia is a free-to-use site that makes money from advertising. We have a modified experience for viewers using ad blockers

Wikia is not accessible if you've made further modifications. Remove the custom ad blocker rule(s) and the page will load as expected.
| | |
| --- | --- |
| | This article, UNSC Eclipse's End, was written by Fleetmaster. Please do not edit this fiction without the writer's permission. |
| | |
| --- | --- |
| | This article, UNSC Eclipse's End, is currently under active construction. |
Eclipse's End
Production information
Manufacturer
Product line

Stealth Corvette

Model

Block III

Class
Technical specifications
Length

162 meters

Engine unit(s)

Equipped

Slipspace Drive
Slipspace velocity

2.45 light-years per day

Power plant

Mk IV Deuterium Fusion Reactors

Shielding

none

Hull

Titanium A
Ablative Coating
Radar Absorption Paint

Sensor systems

X-ELF Radar System

Navigation system

6th Generation Smart Artificial Intelligence "Luka"

Countermeasures

Ablative baffles
Counter-Electronic System

Armament

2 Pulse Laser Turrets
14 HORNET MINES
2 SHIVA class Nuclear Warheads

Complement
Crew

90

Minimum crew

43 w/Spartan Team

Passengers

16-20 Special Forces personnel depending on the mission

Other systems

Steiner-Class Airlock capable of deploying EVA technicians and commandos.

Usage
Year introduced

2547 - Battle of Skopje

Role(s)

Reconnaissance
Electronic Warfare
Mine Laying
Special Operations Support

Era(s)
Affiliation

  [Source]

The Eclipse's End, PRO-41066, is a prowler type vehicle currently attached to Battlegroup Pride. It's commanding officer is currently Commander Pyotr Sokolov. The Eclipse's End carries an EVA detachment known as "Gold Troop" from Naval Special Warfare Group 5. The 6th Generation AI "Luka", whose Avatar is young women in chainmail, manages navigation systems. This ship has also carried out missions where it acted as support and for the Spartan-III unit Vector Ghost Team including the famed Battle of Skopje.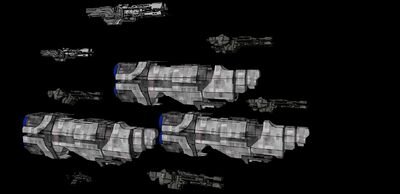 Missions
Battle of Skopje