UNSC Navy
| | |
| --- | --- |
| | This article, United Nations Space Command Navy (TSC), was written by CarpeJugulum. Please do not edit this fiction without the writer's permission. |
| | |
| --- | --- |
| | This article, United Nations Space Command Navy (TSC), is currently under active construction. |

The UNSC Navy is the branch of the UNSCDF responsible for naval combat in space. Its roles include ship-to-ship combat, launching of invasions onto hostile worlds, and the movement of troops across the many colonies of the UNSC. The Navy has a small number of ground-combat units of its own, but it generally relies on the Marine Corps for planetary combat.
History
The UNSC Navy was formed in the wake of the Interplanetary War of the early 22nd century. Its predecessor, the United Nations Navy was formed in response to the United Nations' need to oversee and support Marine deployments off-planet.
The UNSC Navy was one the deciding factors in the Human-Covenant War, and a Navy frigate, the UNSC Feathered Wings, had the first confirmed kill in the Saulosian campaign.
UNSCDF Ranking System
Enlisted
Officers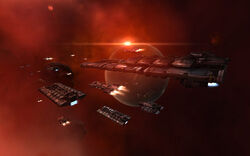 Carriers/Transports
Cruisers
Destroyers
Frigates
Known Personnel
SPARTAN-IIs
SPARTAN-IIIs
Other