| | |
| --- | --- |
| | This article, Zero-D576, was written by Maslab. Please do not edit this fiction without the writer's permission. |
Zero-D576
Biographical Information

DATE OF BIRTH

2550

Physical Description

HEIGHT

6' 10" (Unarmored); 7' 4" (Armored)

HAIR COLOR

Black

EYE COLOR

Blue

GENDER

Female

CYBERNETICS

SPARTAN Class Neural Interface

Political and Military Information

RANK

Chief Warrant Officer 5 (W-5)

SPARTAN TAG

D576

SERVICE NUMBER

89362-23576-KT

UNIT

SPECIALITY

Marksman

CLASS

SPARTAN-III, Delta Company

AFFILIATION

ERA

[Source]
"It depends. Do you want me to hit the target?"
―Zero when asked if she could hit a target during training
Training
Zero displayed excellent marksmanship skills during the course of her training, as well as a limited ability to lead. She is limited, however, by not being very good at inspiring others.
Zeta-9
Zero fought at the Battle for Zeta-9, and helped Wings find the temple, which he deduced contained a reactor, vital to the effort of the combined ODST and Separatist forces.
Zero helped defend a small bunker of rocks while medevac was on its way to carry a wounded Spartan-D339 to safety.
Siege of Alpha-Alpha-Golf
Phoenix team's first deployment after completing their training was to the dry world of Alpha-Alpha-Golf. They were able to successfully destroy several convoys of energy cells, weakening the Covenant lines and allowing Interspecies Union forces to take the planet.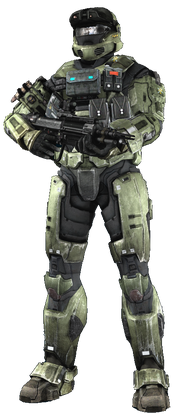 Zero in MJOLNIR Mk. VII armor.
Appearance and Personality
Zero isn't as quiet as her emotional distance might lead you to believe. It has been deduced that she has a troubled past known only to a select few. She does not respond well to being told her limits.
Psychological Evaluation
SPARTAN-D576 shows extreme symptoms of antisocial personality disorder, having an extreme aversion to socialization and high chances of venting by use of force. While she has been undergoing psychiatric treatment, D576 is still prone to taunting others into a fight to prove a point or to simply "blow off some steam." Recommend finding a suitable companion to curb her more undesirable tendencies.
It is possible that the manifestation of her disorder is a result of D576's past.
†Deceased
[DISBANDED]